The Junction provides heavyweight support to Commonwealth Boxing hopeful Nicole Clyde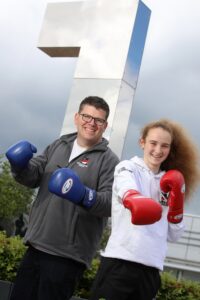 The Junction Retail and Leisure Park is supporting local Antrim Boxer, Nicole Clyde as she hopes to pack a punch representing Northern Ireland in this year's Commonwealth Games.
The current Under 22 Irish Boxing Champion, Nicole has taken the boxing world by storm in recent years. Since her first fight at 12 years old, Nicole has gone from strength to strength representing Ireland at the European Amateur Boxing Championships achieving top 5 in Europe in her weight category at the age of 16.
Nicole currently boasts six County Antrim titles, six Ulster titles and four Irish titles, plus a growing number of international box cup wins. Now 19 years old, Nicole has her sights set on international titles and is just one of the 13 strong NI team heading to this year's Commonwealth Games.
Keen to support local Antrim talent, The Junction Retail and Leisure Park has provided sponsorship to pay for Nicole's travel expenses and her training kit to ensure she is in fighting form for the Games.
Beginning on 28th July, the Commonwealth Games is an international multi-sport event for members of the Commonwealth to be held this year in Birmingham.
Commenting on the partnership, Nicole said,
"As an Antrim local, it's amazing to have the support of an established business like The Junction. As an unpaid sport, boxers must find their own funding and every penny is appreciated to pay for travel expenses and my kit to facilitate my training and make sure I am fighting fit. It's going to be a tough few weeks in the build up to the Commonwealth Games, but I'm excited to get over there and give it my all, and hopefully it will be a springboard to more competitions."
Chris Flynn, Centre Director at The Junction Retail and Leisure Park said,
"At just 19 years old, Nicole has already achieved very highly in the European and International boxing world with numerous titles under her belt. We're excited to support her in her training for the Commonwealth Games and we can't wait to see what she does next. The Junction and Antrim will be behind her all the way."