The Boulevard at Outlet Park – five years in the making
Retail Destination – Ireland feature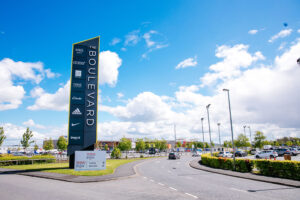 From a desolate outlet on the periphery of a small Northern Irish town to Ireland's most exciting retail and leisure destination, Lotus Property and partners Tristan Capital have significantly and successfully developed The Boulevard and the surrounding Outlet Park development since acquiring it in 2016, creating sustained economic growth for the local area; attracting upwards of 4.5m in footfall to the Park annually, employing more than 500 people and creating a sense of place that has put Northern Ireland on an international map as a thriving retail and leisure destination.
Housing more than 50 globally recognised designer retail brands including Joules, Dune London, Molton Brown, Crew Clothing, Kurt Geiger, Nike, GUESS, Timberland, Jack Wills, an Omniplex cinema and strong food & beverage offering, The Boulevard is Northern Ireland's only premier outlet shopping destination. Situated close to the Republic of Ireland border, it benefits from shopper footfall from Northern Irish capital, Belfast and one of Europe's most exciting and affluent cities, Dublin.
Part of Outlet Park, on the main road connecting Belfast and Dublin, The Boulevard's already strong roster of retail brands will soon be bolstered by the arrival of a 3000sqm M&S Simply Food, a 4518sqm The Range as well as a Park'N'Ride facility for the eagerly anticipated HBO Game of Thrones Studio Tour and visitor attraction. A world first, it is expected to bring more than 650,000 international tourists to The Boulevard per annum when it opens later this year.
A phoenix from the ashes rebrand
A 'cold, empty wind tunnel' on the periphery of a small town and cited by visitors as "the coldest place on earth", the empty scheme was far from a thriving retail and leisure destination when first acquired by Lotus Property however the landlords held the belief, there was bags of potential there.
Facing such a challenge to help achieve this potential, a team of specialists was recruited to deliver the clear vision held by the landlords for creating an internationally competitive retail scheme, perfectly positioned in between two of Ireland's most emerging city markets.
The vision included dramatically reshaping the mall, creating an enhanced sense of arrival on-site, improved landscaping, a rebrand, the appointment of a dedicated centre management team, an events programme to draw family and fashionistas alike and an enviable portfolio of the hottest retail, F&B and leisure names.
A carefully crafted rebranding campaign said goodbye to The Outlet as it was formerly known and hello to The Boulevard with a major investment and a first for Northern Ireland – the installation an ethylene tetrafluoroethylene (ETFE) illuminated roof – to promote a more comfortable environment for all, allowing for all-weather 'outdoor' shopping, something which has really come into its own during the Covid19 pandemic when outdoor schemes soared in popularity.
In five years the further development of Outlet Park, which The Boulevard is situated in, has seen the scheme's footprint widen, its offering to customers both sides of the border and beyond grow exponentially with the arrival of an M&S Simply Food, The Range as well as major work starting in early 2021 on a Park'N'Ride facility for a landmark Game of Thrones Studio Tour attraction, for which on-site signage and through-the-line marketing activity is currently in development to position The Boulevard as a gateway destination for the anticipated 650k international tourists expected per year.
Fashion forward
With longstanding anchor tenants GAP, Nike, M&S and Timberland since opening day, The Boulevard has continued on a positive growth trajectory since being acquired by Lotus Property and even bucked the national downturn trend during the 2020 pandemic, enjoying a 3% rise in footfall and a 7% increase in turnover, showing a confident consumer and engaged visitors. In 2020 alone, it welcomed Dune London, Molton Brown and Joules to the scheme as well as Crew Clothing, Levi's and GUESS the year before.
More recently it has enjoyed a record first week of trading following the hugely anticipated easing of local lockdown restrictions in Ireland in May 2021.
The Boulevard welcomed the largest number of visitors to the scheme in its entire trading history, heralding good news for its tenants as turnover taken ranked among the top five trading weeks since the scheme opened; and most importantly, represented the highest turnover achieved outside of a Christmas trading period.
With sales up a staggering 108% year-on-year and footfall up 73%, compared like-for-like to the same week in 2019, the May Bank holiday weekend and the week following, proved a huge success for the scheme and its tenants.
For the tenants themselves, many have confirmed The Boulevard stores were among the best performing in the district, country and even Europe – with many trading top in their region comparable on the same May Bank Holiday period in 2019.
The scheme offers a perfect mix for its core target market of women and men's fashion, health and beauty as well as a strong sports and outdoor offering. Strategic leasing deals made on behalf of the landlords have cemented it as the go-to home for brands looking to branch out into outlet stores or for those brands looking for a first-in-Ireland base such as Jack and Jones Junior, Crew Clothing and Beauty Outlet.
The leisure destination
The ever-changing retail landscape of today demands more of our outlets than simply a retail offering. In today's world, it is more about the customer's overall experience and turning the scheme into a retail and leisure destination.
Lotus Property's investment in The Boulevard brought this to light when a need to improve dwell time and become a family inclusive leisure destination was recognised.
Anchor leisure tenant Omniplex was secured and brought their state of the art 8 screen maxx cinema to The Boulevard along with the build of McDonalds drive thru, catering for customers as well bringing the A1 traffic to the scheme.
The overall customer experience has been a priority since the scheme was acquired by Lotus Property and continues to reap the benefits in its customer satisfaction, proven through the ever-growing footfall and sales figures.
A retailer's market
Award winning scheme, The Boulevard at Outlet Park is an example of an exciting retail destination that is making a lasting economic and social impact on its local area and putting Northern Ireland on the map as home to some of the most successful stores in brands' European portfolio – pointing at a confident Irish consumer and a fruitful and thriving retail market as we emerge from the Covid-19 Pandemic.
Now a destination with truly global reach thanks to the 650K extra visitors that are anticipated to travel to Outlet Park for the world-class Game of Thrones later in 2021, The Boulevard is a destination of global standard and is currently shortlisted for three Global Retail and Leisure International Awards.