Seven New Retailers in Two Years Push the Boulevard's Trading Figures into the All-Time Top Ten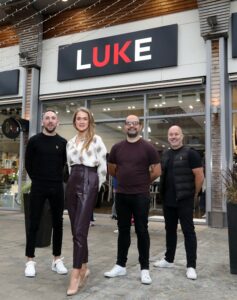 Northern Ireland's premier designer outlet, The Boulevard has welcomed seven new retailers to the scheme in the past two years, with Claire's and LUKE 1977 both opening their doors this Autumn.
The Lotus Property owned retail destination, uniquely positioned in Northern Ireland close to the border with the Republic of Ireland, welcomed global fashion brand Claire's back onsite in a 532 sq.ft. store in October 2021.
Just one week later, The Boulevard was the chosen destination for British menswear clothing brand, LUKE 1977, as it opened its first store on the island of Ireland in a 1,261 sq.ft. unit, creating five jobs initially. The strong customer base was noted as one of the main reasons why Luke chose The Boulevard as the sweet spot for the first stand alone store in Northern Ireland.
Claire's and LUKE 1977 follow big brands like Joules and Molton Brown who opened in 2020, as well as established tenants such as Timberland, Levi's, Kurt Geiger, GUESS, Jack Wills and Crew Clothing among others to The Boulevard.
Recently claiming top prize for innovative marketing at a global retail awards ceremony, The Boulevard's monthly sales figures show that every trading month of 2021 has achieved a top ten position in The Boulevard's entire trading history. From April 30th to October 31st 2021 sales at The Boulevard increased 31.3% on 2019 and footfall was up 23%, making 2021 an extremely successful year, despite lockdowns and Covid closures.
Speaking on the strong retailing figures, Lotus Property Managing Director, Alastair Coulson said: "We are extremely proud of The Boulevard as it continues to buck the trend in the retail industry. Welcoming two new stores inside one week and seven in total over the past two years is remarkable considering what a challenging time it has been for the sector.
"We are thrilled LUKE 1977 chose The Boulevard as their first location in Ireland following in the footsteps of ProCook, Crew Clothing and Beauty Outlet, who also opened with us first. Crew Clothing and Beauty Outlet have since expanded their offering further following positive sales figures in their Boulevard stores.
"Out-of-town shopping has prospered over the past eighteen months and will continue to do so with the right mix of retail, food and beverage and leisure, all of which are key focuses for us at The Boulevard and will help the footfall and sales figures continue to rise."
The scheme will be further bolstered by exciting new arrivals adjacent to The Boulevard specifically an M&S Food Hall and The Range as well as the Park & Ride facility of a multi-million-pound Game of Throne tourist attraction, which will increase the scheme's exposure to new customers, both domestic and international.