Q+A: Lotus Property on Northern Irish retail with React News
Lotus Property MD, Alastair Coulson speaks with React News on Northern Irish Retail
Lotus Property oversees two of Northern Ireland's largest retail parks, bought with Tristan Capital Partners in 2016. The 200,000 sq ft Boulevard in Banbridge is an outlet-model shopping centre, while The Junction is a fashion-led out of town retail and leisure park in Antrim.
In a time period when few were announcing large lettings, The Junction was selected as the site for a 110,000 sq ft Dobbies garden centre, one of the largest in the chain's portfolio. The £10m deal includes the outdoor garden centre, indoor plant area, a pet & bird care department, a food hall, a children's soft play area and new restaurant and café.
React News spoke to Lotus Property's managing director Alastair Coulson on defying the pandemic's impact, repurposing retail into, and how Northern Ireland's largest centres have bounced back to beat 2019's footfall.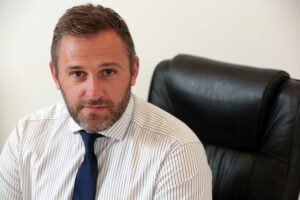 Give us a whistle-stop tour of Lotus and your portfolio
Alistair Coulson: We are the commercial property arm of the Lotus Group. Our primary focus is retail, and then we also do beds, sheds, and offices. From a beds perspective, we've got 724 beds of student accommodation in the pipeline, and we have a large industrial portfolio that we're always extending, moving tenants and expanding tenants.
Our retail assets are some of the higher prole in our portfolio. We're a multi-sector asset management company, but really we're a property development business. With that comes development as in construction development, or repositioning assets, as well as rebranding them, remarketing them. It's about telling the story a bit better than somebody's done before, which always involves a bit of development work as well.
Do you focus more on out-of-town retail parks or shopping centres?
We've had a history of both. We've owned shopping centres throughout the UK, and we've owned out-of-town retail parks throughout Northern Ireland and the UK as well. We've had a blend but prefer the out-of-town market now, because that's just the way we've seen the sector go.
How did retail parks in Northern Ireland perform during the pandemic, and how have you seen them recover?
They've done well out of necessity. Our retail parks are very different to your standard bulky goods park. Our retail parks are fashion-led, out-of-town parks. They've got proper fashion retailers like Gap and like Jack Wills, to name a few. It's been really interesting to see how they have performed against the shopping centre market, because that would be where the more direct competition usually is rather than bulky goods. Since we opened post-Covid, we have seen an unbelievable amount of activity compared to 2019 footfall. It's up 72% on 2019. In May our sales were up 131%. It's just incredible.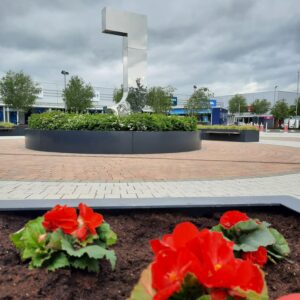 Why do you think the parks have seen that increase in demand?
There's obviously a lot of pent up demand to buy and to spend. And I also think we have worked really hard on creating the right experience, while being very cognisant of Covid-19 measures that had to be put in place. So, we do whatever we can to make the environment really nice, to make sure the floor's traffic is okay, to make sure if there are queues, we create a bit of an experience while in the queue, so it's a bit more pleasurable than just waiting to get into a shop.
Has the pandemic challenged you and changed how you work with tenants?
The customer service which we're providing for our tenants has been really good. Because looking at Covid, we really had to dig deeper and see that trends have changed in the last 15 months. People started to shop online, because they had to, because they couldn't do anything else. So they got used to it. We had to look at what have people missed about shopping, because that's our unique selling point. That's what we have to get better at, because that's what's going to draw people to want to return to retail.
And that's around experience. That's around being able to meet your friends when you're going shopping, and have safety with your friends. We're creating planted areas, a really nice environment, where people can socialise. They can then go to buy a pair of trainers at Adidas, and can go as a group of friends. It's about creating that experience that people have longed for, tied with what online is. A lot of people talk about, "Oh, it's about F&B and all that kind of stuff." But it's actually about creating the environment.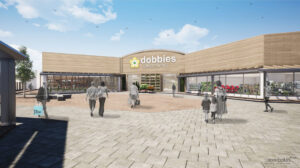 How has your experience in the outlet retail market helped with the bounceback?
Everyone's talking about going into the turnover market, but we've been doing this for quite a while because our schemes are based on the factory outlet model, which was a bit ahead of its time. The better the tenant, the better the landlord does, so it's a partnership. We run all of our units like their own business. We spend time with the managers of all our stores, training them. We'll give them point of sale training, and training on how to get the best out of customer service. We do better, and our retailers do better. It's our job to drive people to the shops. Once they're in the shops, it's over to the shops to try to drive turnover. But we can't rely on that, we want to work with them.

How does turnover rent have more of a positive mutual benefit?
We work very closely with the store managers. We go in and say, "Why was your turnover down last week?" Because we see all the figures. And they might say: "Well, we don't have enough stock at the moment. We're sold out of the size 8, 10, 12, the most common stock." So we can then get onto the store head office and say: "Hey, your guys are knocking it out of the park, but we've seen a drop o. It's because of…" and we help these guys get stock. The days have gone where you can go buy  a shopping centre and just sit on it and think "I've got great tenants. People are just going to come".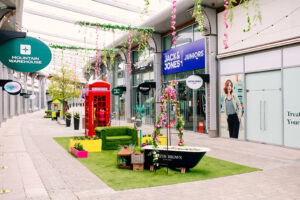 That closer relationship with tenants presumably means you have a better chance of avoiding forced changes through CVAs?
When a tenant goes through a CVA, and they come back to us, we've actually found that all of our deals haven't changed, because our agreements are fair and based on how the retailer's doing.
Where the understanding is really changing on retail, is that a homeware retailer will not do the same sales strategy as a high-quality footwear retailer. Everybody has to pay a fair balance. If somebody's doing £2m out of one store because they are selling so many trainers, that's absolutely brilliant. But then, if you're selling high-end duvets which is more of a one of spend, and you're only doing £200,000, you can't pay the same rent. That's where people have to agree a certain percentage of their turnover, so it's a fairer way of working with the landlord and it's a lot fairer to the retailers as well.
The Boulevard is more of a classic shopping precinct. Have you also seen footfall return and what's driving demand?
The Boulevard is performing so well. One of our tenants was the best performing store in Europe over the May bank holiday weekend. It's absolutely incredible for a Northern Irish asset.
Game of Thrones' main filming studio is literally a mile down the road from Banbridge. They have agreed with HBO to make that into a worldwide visitor attraction, and the park & ride for that is located at the Boulevard. That's going to drive 650,000 people a year to the area, which is what they're projecting, and that's opening in September this year, which is absolutely fantastic.
How can the market respond to the overabundance of retail and shift towards repurposing?
Repurposing retail is a massive challenge. There is an oversupply of shopping centres in every region in the UK. There's too many. There's going to be some really good investment opportunities out there for people who know what they're doing. Especially people who can embrace creating environments and partnerships, everything we've talked about. You can run the concepts I've mentioned in shopping centres just as easily as you can in any kind of outlet village. It's about refacing, getting the partnerships right with the retailer.
Is repurposing in Ireland particularly a challenge because of viability?
Repurposing works where there's really big alternative use values. But when the rent values aren't as high as London, repurposing is a challenge. But there's different types of repurposing. Look at what we've done at Junction, for example. That's effectively repurposing retail into more retail, where we've taken 37 units out of our scheme and turned them into five.
There's a type of repurposing of shopping centres that means we can deliver the things that people want. They want artisan goods. They want clothing brands. They want the cosmetics and their pharmacy, their opticians, and then some grocery shopping as well. It's about finding that balance, and even knocking down some space, and doing something else.
Don't get me wrong. There's too much retail space so there is going to have to be a reduction. But that doesn't mean every shopping centre has to have an alternative use. It just means that every town has to think of themselves more strategically.
How are changing demographics in Northern Ireland driving retail spend and residential demand such for build-to-rent?
In Northern Ireland, students are just beginning to come out of the high end student accommodation. When I went to university, I stayed in the worst accommodations you can imagine, because that's what you did. Now, students have a whole different expectation, from the way they go to university and their accommodation, and they want to travel out of these lovely big student accommodation schemes, and they want to move into the private rented sector.
As students are migrating, you're beginning to see people really focusing on that in Northern Ireland, because the market's momentum is building up. People want to live in the city centre. They want to work, live, and play in the city centre. And they don't want to go and buy the three-bedroom, semidetached house with a small garden so they can have barbecues. That is where the dynamic's changing, and it's definitely a focus for a lot of the developers in Ireland.