Future of retailing is looking decidedly brighter
Commentary from Chris Flynn, Centre Director at Lotus Property owned Retail and Leisure Outlet, The Junction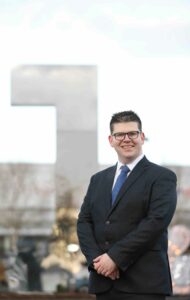 The future of retail has hung in the balance over the last two years with reoccurring lockdowns and shop closures every few months. Now with the vaccine roll out and development of rapid Covid tests, it is hoped that the worst of the pandemic is behind us and shoppers can continue to safely enjoy some retail therapy once again.
Since March 2020, most customers were forced to switch up their Saturday afternoon at the shops for a browse online on their phone instead. In contrary to most aspects of life, convenience isn't always the most sought-after method when shopping. Customers want the day out experience, shopping isn't just about purchasing anymore, but rather an excuse to see friends, have a family day out and change up the scenery from where we have been locked down for so long.
Reopening week saw footfall at The Junction, Antrim increase by +9% on the same week in 2019 and sales for May 2021 were up +49% compared to May 2019. Shoppers are returning to the bricks and mortar stores they have always loved because retailers are investing in the overall customer experience. Adding additional food, beverage and leisure offerings makes a shopping destination all that more attractive and gives the customer something that they can't get with one-click efficiencies.
Alongside retail stores like Next, Nike, Regatta and The Entertainer, The Junction offers a wide range of leisure options including Omniplex Cinema, Starbucks, Nandos, Funky Monkeys Soft Play and an Artisan Food & Craft Market which stands as testimony to the importance of the overall customer experience taking precedence. Investing in the leisure aspect of the outlet has proved fruitful for The Junction, with footfall on Market Day up +76% on the same Saturday in 2019.
Customer behaviours have shifted more favourably towards outdoor and out-of-town schemes since reopening and sales at Lotus Property-owned outlet, The Junction have suggested the revenge retail trend is here to stay. The confidence in physical stores is shared by major UK retailers too, with a new 110,000 sq ft Dobbies garden centre, cited to be among the largest in the chain's portfolio, set for The Junction. Expected to attract footfall of around one million visitors per annum, the growing retail and leisure offering at The Junction will only continue to strengthen the overall customer experience.
The future of the retail may look different to what was predicted pre-pandemic, but not necessarily in a bad way. Bricks and mortar stores have survived what was already a changing landscape in the retail industry before lockdown, and if they continue to adapt and offer customers the full retail and leisure experience, they can withstand the test of time through another generational shift.