Are pop-up shops and concessions on the rise in 2022? Experts discuss the pros and cons of these temporary retail spaces and how they can be successfully executed with A1 Retail.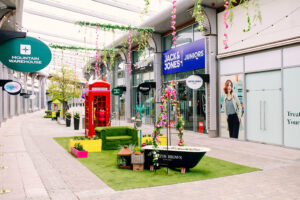 A specially curated pop-up package by The Boulevard has proved a successful opportunity for retailers to effectively trial a new location and sell surplus stock with dedicated pre-fitted units, keeping costs and set up charges to a minimum for the retailer.
The tailored packages offered by The Boulevard mean brands can operate out of the outlet scheme for a timeframe that suits them. Supporting on all fronts, the Lotus Property and onsite team at The Boulevard assist with marketing in the form of social, digital, OOH and radio advertising campaigns, onsite events, PR and influencer marketing as well as staffing and recruitment, if required.
Lotus Property, owner of Northern Ireland's only premier outlet shopping destination, has recognised many GB and international retailers operating in Ireland are often left with the headache of excess stock, which frequently leads to additional shipping and storage charges. To help alleviate this problem, Lotus Property have developed a bespoke pop-up package which caters for and is easily adaptable for any brand.
Pre-pandemic, they were seen as an effective way to solve this issue but in a post-pandemic world, pop-up outlet stores in Northern Ireland could offer the solution and potentially profitable revenue stream that many retailers on the island of Ireland have been searching for.
Chris Nelmes, Retail Director at The Boulevard, said: "We are no strangers to pop-up stores at The Boulevard, welcoming many in recent years including Radley, Asics, Jack Wills and Molton Brown. Retailers choose the pop-up option for many different reasons and so determining their success depends on what their main goal was to begin with. Molton Brown used a pop-up store to trial the location and was so successful it recently converted into a permanent store at The Boulevard. Others have committed to larger units after positive sales and some simply measured their success on the ability to sell surplus seasonal stock and raise brand awareness in the region.
"Having the option of both short and long term pop-up stores, based in an outlet close to the Northern and Republic of Ireland border, means retailers can avoid costly chargers incurred from returning stock to Great Britain. We are delighted our carefully considered pop-up strategy at The Boulevard is continuing to grow as we are set to welcome a new household name onsite in the coming months, as their first ever outlet location.
"With a high success rate in converting pop-ups into longer term tenants, we are there to support the tenant before, during and after trading, ensuring their time at The Boulevard is a success for all involved. Pop-up stores are not a new phenomenon, but rather an evolving option for retailers across the UK and Ireland, only growing in popularity after Brexit and the Covid-19 pandemic." Chris continued.